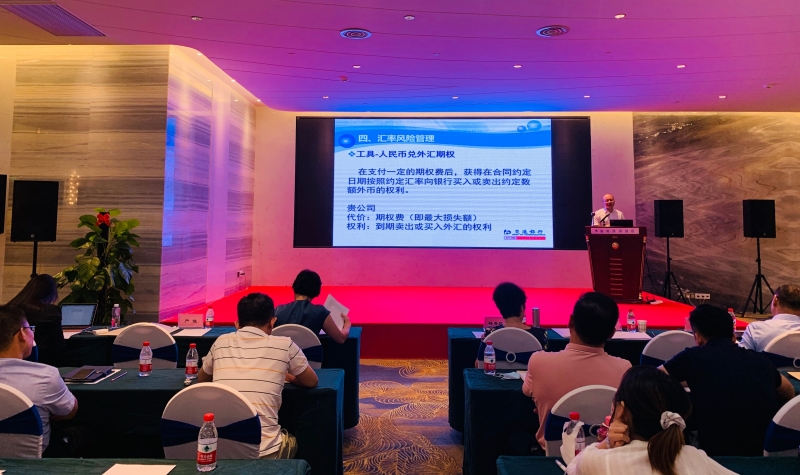 In order to help Hainan foreign trade enterprises actively deal with the adverse effects of international economic and trade frictions, improve their legal risk prevention ability, improve customs clearance efficiency and trade facilitation level, and help enterprises explore the international market, Hainan Council for the promotion of international trade, together with Hainan International Chamber of Commerce, Haikou Council for the promotion of trade and Haikou International Chamber of Commerce, jointly held a seminar in Haikou on September 10, 2021 "2021 international economic and trade friction response and business certification training". More than 70 leaders, international business managers and business specialists from foreign trade enterprises and relevant units participated in the training. Lin Chunhong, vice president of the provincial council for the promotion of international trade, attended and delivered a speech. The training actively responded to the requirements of epidemic prevention and control and was held in a combination of "offline + online".
Enterprise online ask, expert "cloud answer"
In the morning, Zhu Guangyu, the chief visa engineer of CCPIT, explained the rules of origin of free trade agreement (FTA) for enterprises, and carried out commercial certification, agent consular certification, ATA business publicity and FAQs. Zhu Guangyu experts patiently explained various preferential policies such as RCEP, and actively guided enterprises to make full use of the "golden key" of preferential certificate of origin Carry out international trade and reduce transaction costs. Taking an enterprise exporting a product to South Korea as an example, the enterprise can complete it in half a day from applying for the preferential certificate of origin between China and South Korea to successfully issuing the certificate; its single export amount is US $20 million, which can reduce tariffs for importers by about US $1 million, greatly improving the international competitiveness of enterprise products. In the exchange and question session after class At the end of the training, many enterprises frequently praised the combination of "offline + online" and experts' online "cloud solution" mode.
Cross border trade is difficult to support through the platform
At noon, Wen Kai, a construction technical expert from China Council for the promotion of international trade, introduced the legal support platform for cross-border trade and investment of foreign trade enterprises in our province (Tradelink platform) The platform is a public service platform for foreign-related commercial law, with online consultation as the main body and integrating legal identification, case inquiry, economic and trade early warning, training meetings and exchange and interaction. The launch of the Tradelink platform has important significance for the trade promotion system to improve the specialization, refinement and internationalization of trade and investment, promote public legal services, and do a solid job in stabilizing foreign trade and foreign investment significance.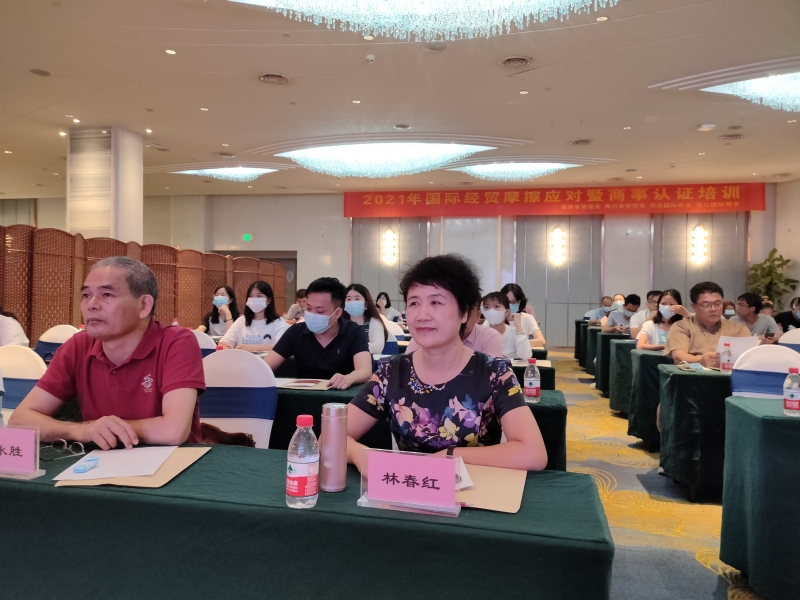 Multi channel tactics and skillful risk avoidance
In the afternoon, Yan Jun, an expert from the International Business Department of the provincial Bank of communications, gave a lecture for the enterprise on the theme of "letter of credit application and exchange rate risk management under the new situation", mainly including the application of international, domestic and standby letters of credit and exchange rate risk prevention strategies. In recent years, the foreign trade situation has become increasingly complex, the sources of global turbulence and risk points have increased significantly, trade fraud and other risk factors often appear in trade settlement, and the exchange rate risk faced by enterprises is also increasing. Yan Jun's lectures are of great help to enterprises in our province to flexibly use letters of credit to prevent trade risks and reduce financing costs.
Lawyer Yan Guangpu, founder of Guangzhou daoyue legal consulting service Co., Ltd. and China Consulting (Hainan) Co., Ltd., brought a wonderful interpretation of the theme of "Hainan free trade port trade remedy and export control compliance construction". He summarized the ways of trade remedy between China and the United States, focusing on the introduction, analysis and summary of the United States, the European Union The export control system of Singapore and other countries and economies, and combined with the actual situation of Hainan, this paper analyzes the possibility and Countermeasures of enterprises subject to various trade investigations under the Sino US trade friction. This interpretation will help Hainan enterprises understand foreign economic and trade rules and correctly deal with various risks.
"The CCPIT training is very practical and full of dry goods, which is too timely for our foreign trade enterprises!" after the meeting, Wang Xin, regional director of Southeast Asia of Hainan Haima Automobile Co., Ltd., said in an interview that since the outbreak of the epidemic last year, the provincial CCPIT has provided various learning and charging opportunities for foreign trade enterprises in our province, and timely publicized the new policies and trends of foreign-related legal services, For example, the free trade agreement series salon activities and special training on enterprise compliance management have diversified training contents, strong pertinence and large amount of information, which have widened the effective channels for Hainan enterprises to obtain information, and the enterprises are satisfied.
In the future, we will continue to implement the activity requirements of "blocking points, solving problems and promoting development", make great efforts to help enterprises enhance their international competitiveness, expand the benefits of enterprises and improve their sense of acquisition, sow "timely rain" and inject "reassurance", and be a "escort" for enterprises to carry out foreign trade business and avoid foreign trade risks.